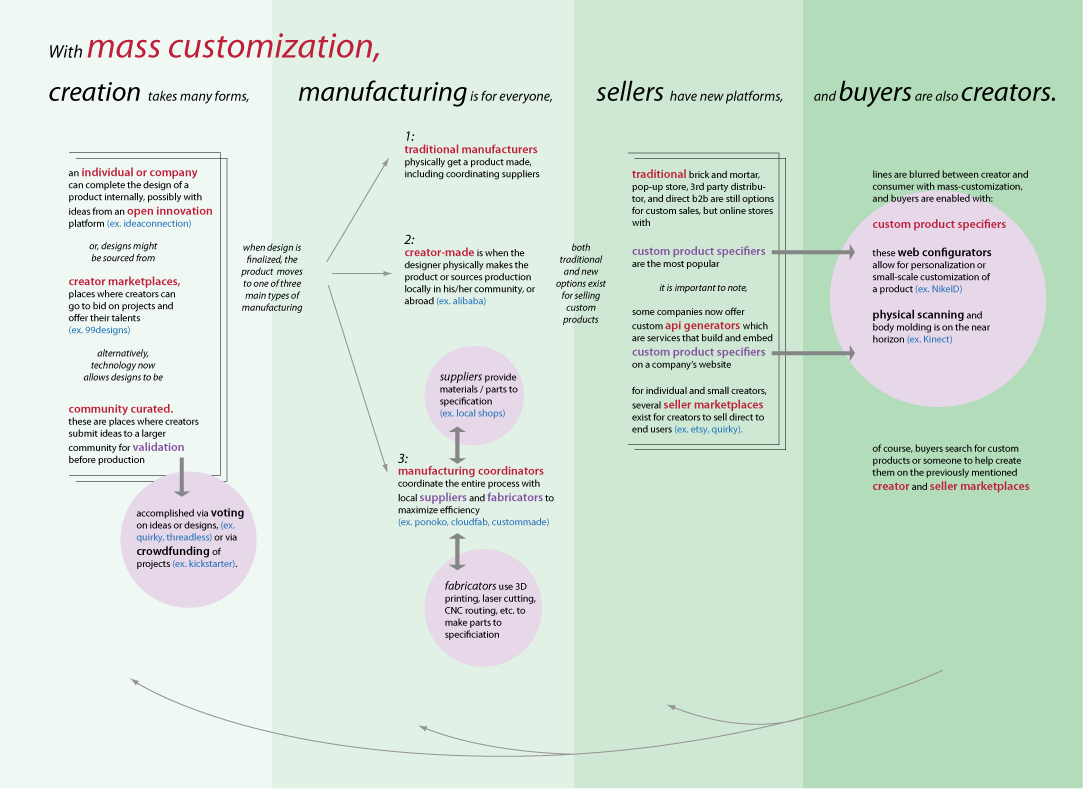 I've been think­ing a lot about mass cus­tomiza­tion for a client project. The con­cept is one that I'm a huge fan of — espe­cially when large orga­ni­za­tions are brave enough to open up their manufacturing.
The term "mass cus­tomiza­tion" is a broad one that refers to the ever-increasing involve­ment of cus­tomers in the design, man­u­fac­tur­ing, and sell­ing processes of all types of prod­ucts. Mass cus­tomiza­tion gives cus­tomers con­trol over, and the abil­ity to per­son­al­ize prod­ucts. It gives small com­pa­nies and cre­ators busi­ness mod­els to keep costs down through on-demand pro­duc­tion, and it gives larger com­pa­nies meth­ods for incor­po­rat­ing mass par­tic­i­pa­tion into prod­uct devel­op­ment, along with sim­ple tools for cre­at­ing prod­ucts with a user's own designs or specifications.
As the dis­tri­b­u­tion of man­u­fac­tur­ing around the world shifts and evolves, mass cus­tomiza­tion and the new man­u­fac­tur­ing mod­els that come with it will become increas­ingly pop­u­lar for new com­pa­nies. Older, larger com­pa­nies with estab­lished man­u­fac­tur­ing sys­tems will need to evolve. Barriers and chal­lenges exist, but oppor­tu­nity abounds.
I find this Wired mag­a­zine arti­cle par­tic­u­larly fan­tas­tic: http://​www​.wired​.com/​m​a​g​a​z​i​n​e​/​2​0​1​0​/​0​1​/​f​f​_​n​e​w​r​e​v​o​l​u​t​i​on/
Mass cus­tomiza­tion is a broad term that includes many con­cepts such as co-creation, manufacturing-on-demand, open inno­va­tion, crowd­fund­ing, online mar­ket­places and more. I put together this con­cept map to give an overview of mass cus­tomiza­tion, includ­ing the many parts and their relationships.